Overland Trail Cycle
Overland Trail Cycle is owned and operated by Dennis Ziolkowski and is located on Rt 60 South in a small Borough called Crafton which is on the west side of Pittsburgh PA.
Dennis has been involved in offroad riding and competition since 1964 and in the late 60ís was one of the founders of Overland Trail Riders Motorcycle Club of which he is still president today. Then in the early 70ís was one of the founding fathers of District 5 Motorcycle Association and was the president of the organization for 6 years. Dennis was an AMA congressman in the late 70ís and early 80ís.
Although Dennis competed in many forms of off road competition he has favored Enduros and Observed Trials Competition. For the past three decades Dennis has focused exclusively on Trials and promoting the sport of Observed Trials competition and the sales of Montesa motorcycles.
In March 2010 I received the AMA "Letter of the Month" for brief letter submitted: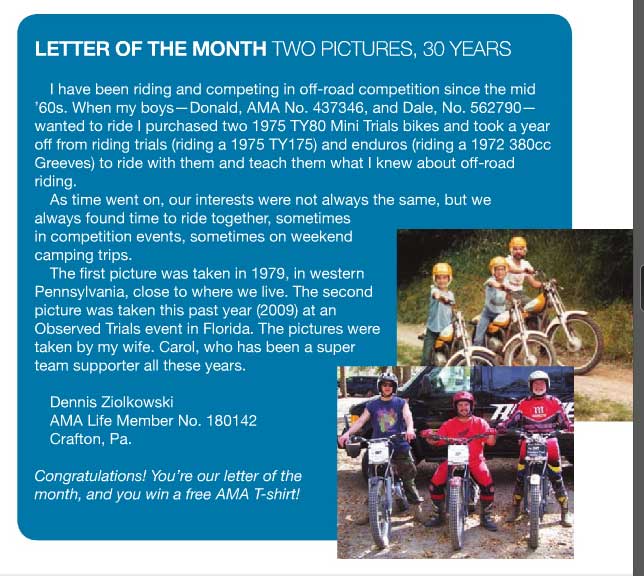 Currently Overland Trail Cycle specializes in Montesa Trials Motorcycles and is the parts importer for Montesa parts. OTC is a registered dealer for ELF oil, Tucker Rocky, All Balls Racing, V-MAR and Ryan Young Products.